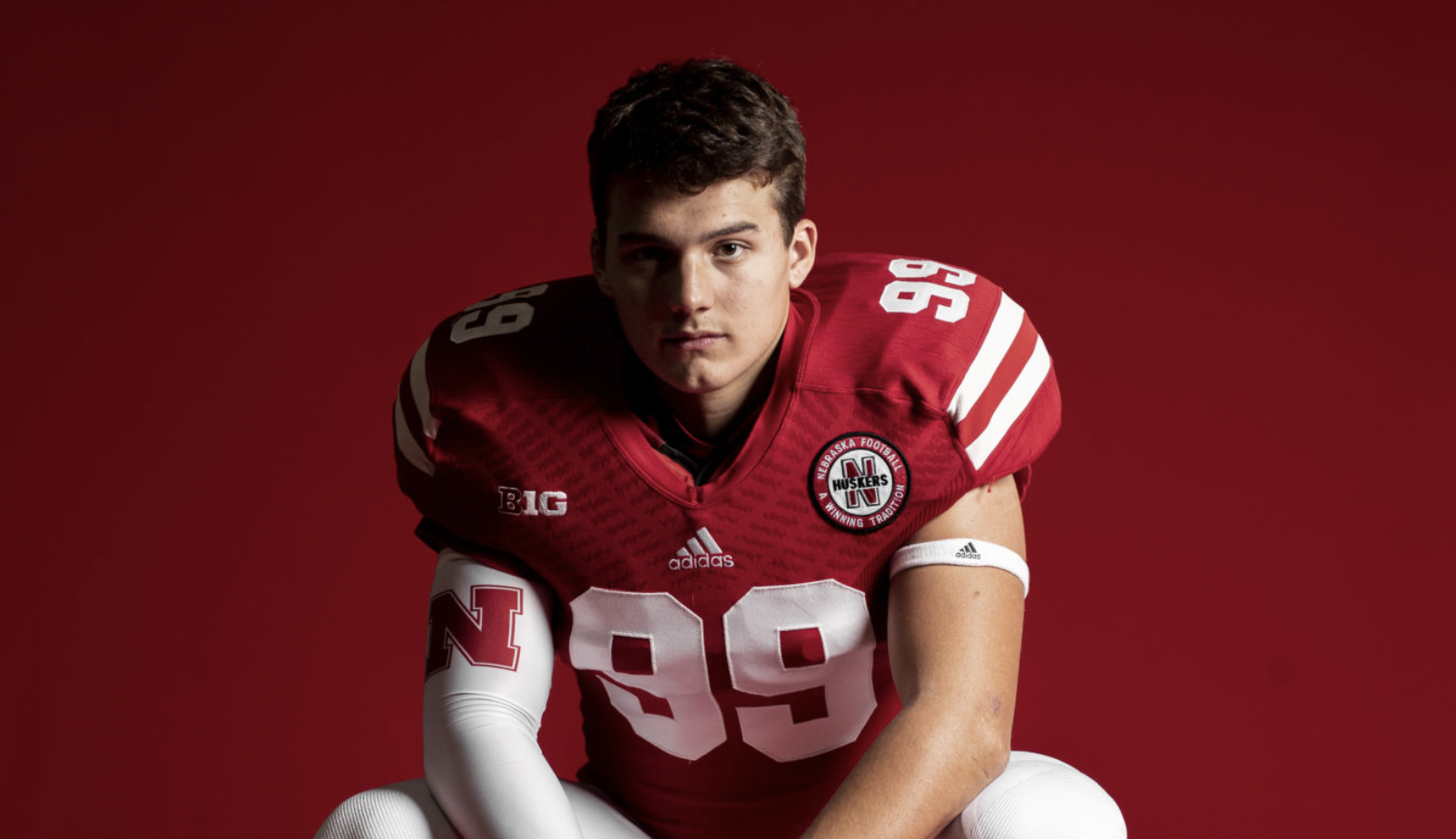 You don't get your name in the paper for making the big block. Which is just fine with Luke Lindenmeyer.
Blocking, blocking hard and blocking well, is part of the job description when you play tight end, especially when you check in at 6-foot-4 and 265 pounds. Add to that the fact he's enough of an athlete to also mix in a steady diet (pun not intended) of what amounted to wide receiver last season and you have yourself quite a high school football player.
Which he was, for dear old Papillion-LaVista High. And what he hopes to become at the college level as a preferred walk-on for the Huskers as part of their 2022 recruiting class.
"To get an edge you need to love all of what your position requires," says Luke. "People see the catches but I love making blocks. It's half the job at my position."
It's always a great plus when your powerful senior tight end embraces (again, no pun intended) blocking on the edge but Luke also proved to be a dependable downfield pass catcher in 2021, pulling in 29 receptions for 424 yards and six touchdowns. That's 15 yards a catch, nothing to sneeze at when you go 265.
About that. Luke is also rarity in today's high school sporting world, a three-sport varsity athlete, who manages his weight as dictated by the sport that is in season. For football he bulks up (that's the 265), for basketball he slims down ("only" 245, but try telling that to the guy he bull rushes out of the paint) and as for track, well, don't ask.
So Marie Osmond has nothing on this kid, who besides all his football success is now turning in the best season of his basketball career, posting on average 15 points, seven rebounds and three assists per game. Luke's even knocked down six three-pointers. (Big men, unite!)
Oh, the kid's got game, for sure. A four-year starter who can score, rebound and defend, all that, but where he really shines is in an all-school pep rally.
"Luke loves to clown around," says Papio head boys basketball coach Dan Moore. "Last year at our all school assembly, the basketball team had to do a little dance to music and Luke volunteered to lip sync a solo."
Here's your update: Luke got in touch with me after this article was originally posted to inform me that wasn't a lip sync, that was all Luke, live and in person, really rocking the house. He was kind enough to share the video and let me say, from what I can tell Luke shouldn't completely turn his back on a career in the entertainment industry...
Now how do you not love a kid like that?
Aside from his budding musical career and regarding his busy sporting life, Luke wouldn't have it any other way. Couldn't have it any other way. He'd go stir crazy.
"It would feel weird to go straight home after school with nothing to do," says Luke. "I don't want to miss out on any of my high school opportunities."
A three-year starter on the Papio football team, Luke was a tight end on the eighth-grade team but was moved to tackle for his freshman season. Not a necessarily a fan but you roll with it, whatever helps the team, that sort of thing.
Entering his sophomore season Luke and his teammates had a new head coach, Tim Williams, and part of his assessment of the talent on hand was to move Luke back to tight end. As a junior he split time between tight end and wide receiver (DB says, gulp!) before last year spending a lot of time as what the program calls the "single side receiver" which is code for, look out, big kid's got the ball.
"I am a competitor so I always felt like I could gain an edge, no matter the situation," says Luke. "If they put a linebacker on me I felt I had the speed to get open, if it was a DB I always felt like I could use my size to gain position, especially on fade routes."
You do remember the kid weighed 265 while all this was going on, right?
As for his competitive nature it seeps through outside the sporting arena though it is captured best in a couple of in-sport examples.
1. Last summer during weight training he waited for his lifting partner to max out, then put a dinky 2.5 pound weight on each of the bar before sliding under it and completing a successful lift. "Drove him crazy," says Luke through a smile. "He said it was only five pounds, but all I knew was it was more than he lifted."
2. Competition day during basketball season is where the Monarchs divide the varsity into "even teams" then, well, compete. The losing team runs, the winners don't. "I haven't been on a losing team since sophomore year," says Luke.
Luke and his family ain't from around here, as Luke was born in West Point, New York (yep, that West Point, home to the United States Military Academy) and his family lived there until he was three years old. His father is retired military now, but back then the family made stops in Virginia and Pennsylvania before settling in Papillion just prior to his third grade year.
For fun Luke is "into card collecting" and brokers trading cards on the Web, one of his prize possessions being his Derek Jeter rookie card. You know, at least until the price is right. (wink) He's also a bit of a Marvel super heroes fan, his collection including "a Thanos glove that's pretty awesome." Those are hobbies seem to foreshadow his college studies and professional goals, as he plans to become an entrepreneur. His 3.9 GPA says that's got a chance to work...
Besides all that Luke is also a gamer, and by all accounts a very good one. "I'll probably be the best Madden player on the Huskers," he teases. At least I think he was teasing.
Ah yes, the Huskers. See, after getting Division I offers from Army (you know, the United States Military Academy, West Point, New York), the Ivy League's Columbia, and Southern Illinois, as well as a knot of smaller schools, Luke eventually said yes to a preferred walk-on offer to play football for Big Red.
"Everybody wanted me to go to (Army) to play college football, all my friends and family. I understood what they are saying because that is a great honor, and it guarantees a great job after football, but it didn't seem like the right fit for me," says Luke. "I wanted to compete at a higher level, so I chose Nebraska."
Not only did he choose Nebraska, he chose to enter the program as a walk-on, not some Parade All-American. At least not on paper, though maybe in his own heart.
"I won't be at the top of the depth chart when I get down there. Around here people know me and what I can do but down there I will be starting all over and have to prove myself all over again," says Luke, "and I sorta like that."